For everything from CRM software to Business Collaboration tools, over 80% of Enterprises rely on multiple cloud computing services. But Enterprises often find themselves wrangling with multiple technical and financial issues when they are jumping into a cloud migration without the correct planning.
Especially, when confronted with the complexity of today's multi-cloud environments, the situation quickly becomes much more complicated. What initially seemed straightforward becomes significantly more expensive.
For many, enterprises the best way to determine ROI is its capital expenses (CapEx) versus operational expenses (OpEx). But the real fact is you must look beyond the CapEx vs. OpEx benefits and assess the other value drivers at play, to understand the complete value of cloud migration for your enterprise
Let's first dig into CapEx and OpEx.
What is CapEX and OPEX?
CapEx
To create long term benefits in the future, enterprises incurred some expenses, and those expenses are known as CapEx. Some examples of IT items that fall under this category would be whole systems and servers, printers and scanners, or air conditioners and generators. Maintenance of such items is also considered CapEx, as it extends their lifetime and usefulness.
OpEx
On the other hand, the expenses to run day-to-day business – the operating cost is OpEx. Here the enterprises will pay according to usage.
OpEx is how cloud computing services are procured, while CapEx is the standard model of traditional IT procurement. The two have very different implications for operational flexibility and cost.
CapEx Vs. OpEx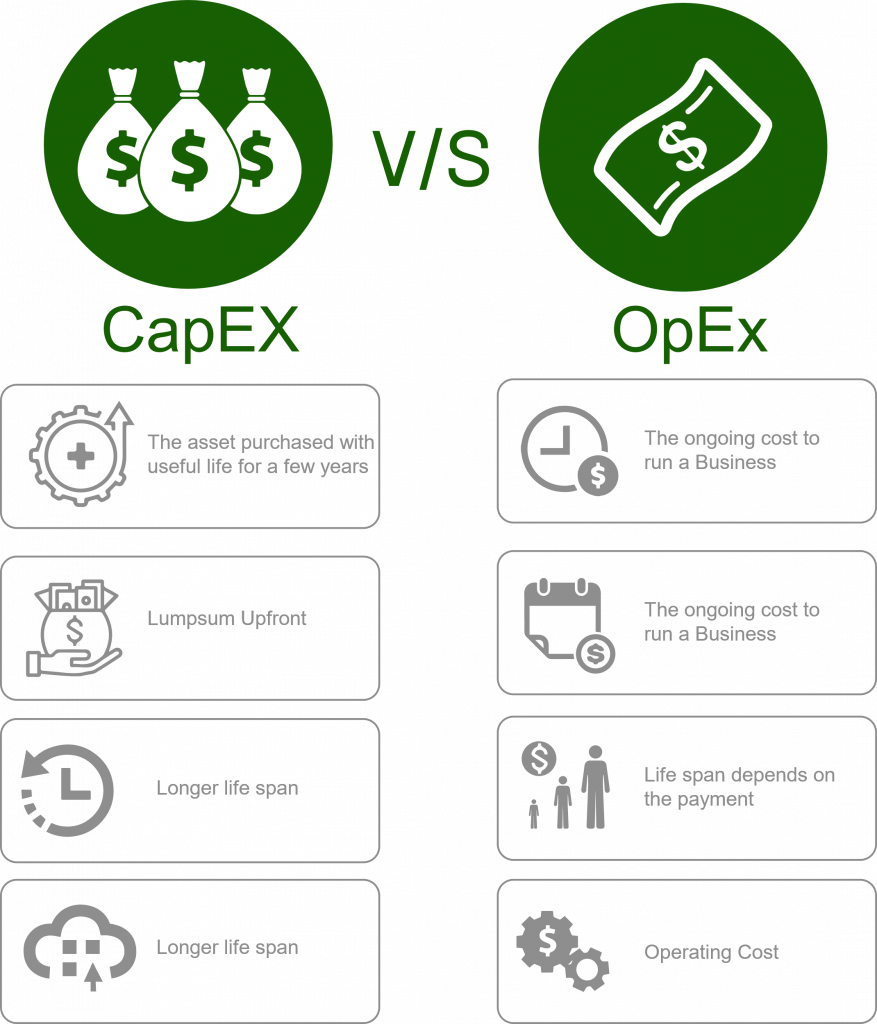 In the initial stages of Cloud Migration, it's important to determine which workloads will be migrated to a public cloud (OpEx) and which ones to keep on-premise (CapEx). As migrating workloads in the public cloud doesn't require steep upfront CapEx, proper planning will avoid costly surprises. More specifically, it's essential to perform a thorough cost-benefit analysis provides clear insights into usage levels and their associated expenses from the start.
But in the 2nd stage, when they want to withdraw from one cloud service provider and opt for a new provider and they have to pay the both until the migration is completed., how the enterprises will handle the cost? It is time to think beyond CapEx and OpEx.
Thinking beyond CapEx and OpEx
A sustainable multi-cloud solution requires planning based on technical requirements and also cost of ownership. But is planning enough to handle the cost constraints for the enterprises to withdraw workloads from one cloud service provider and opt for a new provider?
Considering the pain of these enterprises, Suneratech brings the ZCCM program for such customers. ZCCM – Zero Cost Cloud Migration, Suneratech facilitates migrating all the workloads from either existing datacenter or other Cloud Infrastructure (including AWS or Azure) to Oracle Cloud Infrastructure (OCI) through ZCCM program, at ZERO Migration cost!
About Zero Cost Cloud Migration (ZCCM)
ZCCM saves any double cost by paying all the Oracle costs until the customer's contract terminates with other cloud service provider. Suneratech migrates all workloads in scope to Oracle Cloud Infrastructure (OCI), at ZERO Cost, and will not invoice until all workloads are successfully migrated to Cloud.
Suneratech invests upfront in both Cloud BOM (on behalf of the customer) and Migration Services, while customer's existing service is active. Customer does not need to secure more funds to simultaneously pay existing service contracts and Suneratech. Enterprise pays Suneratech from the savings realized after the migration has completed, over the life of the contract.
Moving to cloud at Zero Upfront Investment – Is not it amazing?
Let's check as an Enterprise what are your take ways from ZCCM program of Suneratech
Migrate to the cloud without additional Investment
Guaranteed 40% savings of infrastructure and management costs
Increase the ROI of new infrastructure, Cloud, by quickly migrating your applications and data.
Automate a process by orchestrating and integrating data for App Dev
Concentrate on your core business instead of handling day-to-day operations and technology issues
Conclusion
In a data-driven world, you need a comprehensive business model to accelerate your IT transformation with cloud services, and offering you with the advantages of cloud – business agility, security, cost efficiency, simplicity, and a clear strategy to move you to cloud while reaping the benefits.
As Oracle's #1 Cloud Velocity Partner and a trusted Oracle's Cloud Managed Service Provider Partner, Suneratech helps customers accelerate innovation in the Cloud. In ZCCM, Suneratech invests upfront in OCI and Migration costs and amortizes costs throughout the Managed Services Agreement.