'
Work From Home' is the new normal. 'Work From Home' (#WFH) has been the savior for many enterprises and helped them to stay float during LOCKDOWN. Those who were not prepared and not agile missed the bus to `Work From Home' and lost out.  This is more pronounced for IT & ITES companies (BPOs & Call Centers are known as IT Enabled Services a new categorization not known outside India).
Success of the makeshift WFH strategy has disproved many myths around WFH. Many IT & ITES companies are in the process of working out long term WFH strategy as a business differentiator.
#TCSNewNormal
India's largest IT service provider Tata Consultancy Services (#TCS) is leading the pack and showing the way. TCS has made a bold statement that 75% of its global workforce will `Work From Home' by 2025. As per their new model #25/25TCS, only 25% of its workforce will require to be in office at any point in time. This is expected to free up plenty of office space in the days to come. Working from home' will be the 'new normal' for IT employees. `Work From Home' is not new to IT employees in India. What is then the `New Normal' TCS is talking about? What is considered as a privilege and consideration for employees who opt not to commute to office, so far, will now be pushed as a `strategic differentiator'. 'Old wine in a new bottle'?.
#WhatAboutBPOs
Is it so easy to make such bold strategies? No. Lot of thinking and planning must have gone behind the strategy. Whilst it is not easy for IT companies, It is even more difficult for ITES sector (BPOs and Call Centers) because of restrictive clauses in OSP guidelines governed by DoT. IT sector is not subjected to these constraints.
Biggest restraint for a BPO/Call Center from adopting the same `New Normal' hypothesized by TCS is DoT regulation. What is this restricting covenant? This is known #DoTOSPRegulation. As per DoT regulation, OSP companies (BPOs and Call Centers are called as `#OtherServiceProviders in DoT parlance) need to take prior approval from DoT before they can dream of `#25/25'. You might ask so what, Take the approval? Here is the catch. `Work From Home' approval from DoT comes with the following riddles.
#WorkFromHomePuzzleForOSP
Have to submit Bank Guarantee of Rs.1 crore per operating facility from which `Work From Home' approval is required (I must state here that DoT has magnanimously agreed to reduce the burden from Rs.5 crores originally envisaged to Rs. 1 crore).
Agent locations have to be connected using a `Providers Provisioned Secure VPN' (called as PPVPN as per DoT terminology). Work From Home agents cannot be connected on Internet VPN connections. Connecting through PPVPN adds up to the cost and challenges of PPVPN service feasibility at all home locations.
DoT originally had a provision that Agent positions (Homes) must be in same SSA (Secondary Switching Area generally limited to a telecom district as per DoT parlance) or adjoining SSA. This has luckily been removed in 2011. Hence the understanding is that the agent positions can be outside the city of presence as well.
Agent home addresses with the name and connectivity details need to be submitted to DoT as part of the approval process. This would mean that DoT must be approached for every induction as well as resignation. I would imagine the number of letters and files to be maintained by DoT authorities if all the BPOs / Call Centers decide to adopt 25/25 model taking the cue from TCS. DoT might have to book additional office spaces getting vacated by IT companies to keep the loads of files and letters seeking and giving approvals for adding / removing `Work From Home' agent locations.
All logs of all the activities carried out by Home Agent positions should be maintained for a period of 1 year. This is overarching. What would the term `all the activities include? Would every form, every chart need to be logged and retained for one year?
#IsOSPLicenseRationale?
The rationale behind DoT applying so many restrictive conditions for BPOs / Call Centers is apparently the possibility of losing out on precious telecom revenue, by routing the telecom calls through Internet which could result in Telecom Service Companies losing revenue. India has still not enabled telecom calls to be routed through Internet.
Fair enough. But why is this applied for all the OSPs. Possibility of revenue loss is there only when telephone calls are to be switched to the home locations. What is the fun in making non-voice ITES companies also to suffer from this restriction? They don't deal with telephone calls at all but clubbed together as a OSP. Unfortunately, a non-voice BPO company is similar to a IT company in business process but cannot do `Work From Home' without taking specific approval from DoT following WFH restrictions applicable for the OSPs.
How is a BPO different from an IT company other having committed the crime of choosing an associated business line and hence had to add a tag `Enabled' in the vertical. Why would a `legal outsourcing' company be deprived of 25/25 vision? `Remote Infra Management Services' company is also dreaming of 25/25 but OSP regulation does not make it easy.
#20YearOldLegacy
"Our current operating model is a 20-year-old legacy. In some ways, this crisis actually leapfrogs us into a new model" commented CEO of TCS Mr.Rajesh Gopinathan.
Actually, OSP licensing terms are more than 20 years old legacy (Framed late 1990s). We badly need to reform our ITES sector to `New Normals' abolishing 20+ years old legacy called OSP.
BPOs also want to leapfrog into the new model if given an opportunity. Is #DOT listening? Can we expect honorable minister #RaviShankarPrasad to correct the anomalies in DoT restrictions? Industry is waiting for the day OSP restrictions could be completely removed. If DoT is still not ready to throw out 20+ years legacy, can the `Work From Home' restrictive clauses be removed for non-voice BPO processes the least leaving the restrictions apply only to voice processes? Can we hope `new normal' will be enabled for BPOs partially at least , I am confident our progressive government will listen to saner voices and pave way for `New Normal' for IT as well as ITES sectors.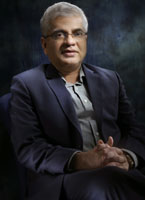 Authored by: 
Jaganathan T
EVP – IT & GRIC
AGShealth