Indian cloud market is growing on a fast track and each vendor has a contribution to this growth. Ravindra Kelkar, Area Vice President, Sales & Services, India Sub-continent, Citrix is speaking about Citrix's strategy.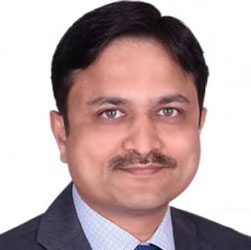 Citrix Cloud is a platform that hosts and controls Citrix services and connects to your resources through the Citrix Cloud Connector onany cloud or infrastructure i.e. – on-premises, public cloud, private cloud, or hybrid cloud."
RAVINDRA KELKAR AREA VICE PRESIDENT, SALES & SERVICES, INDIA SUB-CONTINENT, CITRIX
It is believed that India's booming Cloud Market is expected to reach $4.1 Billion by 2020 (Forbes). What are the factors behind this growth in the Cloud business in India?
India is amongst the fastest growing and evolving cloud markets in the world. With the government being a strong advocate of digital based solutions and digitization especially through the Digital India program, we are on a path of unstoppable technology growth. The focus has been especially on cloud and harnessing its potential to help accelerate the pace of this growth. With the cloud market's tremendous popularity and growth in India, cloud computing is rapidly advancing, and most companies are adopting this model. This is evident by recent changes in the enterprise business model of enterprises that have adopted cloud-based services to revolutionize the notion of infrastructure flexibility. Cloud simplifies remote access and flexibility while also being cost effective; saving an organization on the considerable spending on hardware and storage solutions. Due to the thrust for digitization from the government, organizations now have the backing required to transition to new intelligent solutions. With Citrix's workspace, network, analytics and virtualization port-folio, we are able to support organizations in upgrading their IT infrastructure. We can therefore say that Citrix not only has the cloud solutions that customers require but is also playing a key role in helping them in their overall digital transformation journey.
What are the real CIOs infra-structure challenges that are being resolved by Cloud?
The cloud infrastructure and its definition have evolved over the years. Although the term has been around for almost a decade, the concept has just recently started gaining popularity and momentum. Moving to cloud may seem complicated at first, but the transi-tion can help mitigate a series of long-term problems including misplaced IT focus, high data maintenance cost, outdated technology and poor communication. To CIOs, moving to the cloud is a chance to overcome internal limitations and improve their value proposi-tion. The benefits of a cloud-based network significantly outweigh the benefits of staying with an onsite solution.
HARDWARE ARCHITECTURE
Cloud reduces or eliminates the need for businesses to purchase equipment and build out and operate data centres. This enables saving on hardware facilities and other expenses required out of traditional comput-ing and helps gain the benefits of services like analytics, AI, and the opportunity to collaborate outside the business premises.
FLEXIBILITY AND COLLABORATION
With cloud, employees can carry their data and access it wherever they go. Cloud adoption not only makes businesses more flexible, but it allows them to use their personal devices to access this information if need be. Business can use file-sharing applications to collaborate effectively, despite geographic limitations. Therefore, one of the major advantages of cloud computing for businesses is the increased mobility. This is particularly valuable in an age when employees desire flexibility in their schedules and work environment. Businesses that operate on the cloud can provide employees with options to work on the go, from home, across all devices. With the adoption of cloud, organizations small and large alike can find solutions to their problems. It enables a stable, reliable, and scalable data infrastructure, while help-ing you store, process and analyse data from multiple sources within your business, giving the opportunity to focus on innovation and growth.
Provide a brief description of your Cloud Capabilities. Can you enumerate your cloud offerings?
At Citrix, we are favorably positioned to help organizations in their transition towards cloud-based solutions. Citrix Cloud services have received widespread acceptance in India and across the world. Organizations have realized cloud's potential owing to delivery of flexible, fast, and seamless access to a host of work apps and data.
Citrix Cloud is a platform that hosts and controls Citrix services and connects to your resources through the Citrix Cloud Connector on any cloud or infrastructure i.e. – on-premises, public cloud, private cloud, or hybrid cloud, allowing you to create, manage, and deploy workspaces with apps and data to your end-users.
With the emergence of new technologies, organisations globally and locally are evolving in terms of the way they operate. Workstyles and workspaces are now more aligned to accelerate overall growth by leveraging digital solutions like cloud. Considering the various advantages and its seamless alignment with the existing IT structure to ensure minimal disturbance, cloud is truly enabling workspace transformation.
What is your road map for next 12 -36 months?
While 2018 was a year of establishing our strategy and consolidating to enable rapid growth, we believe that 2019 will be the year where Citrix will have the biggest opportunity to redefine itself. 2019 will be the year we move beyond virtu-alisation. We aim to significantly increase our market visibility by moving away from being just about virtualization, thereby ensuring differentia-tion in terms of our positioning. Encouraging partners to reach beyond core virtualization products can be a potential game-changer for Citrix.
Citrix has always been known to deliver virtualization products. However, now is the time for us to also cater to 70% of organizations out there who don't need virtualization. The offering that is opening these new lines of partner revenue are Citrix Workspace inside of Citrix Cloud. In this evolving landscape, Citrix finds itself well positioned to support organizations through these changes. Citrix Workspace enveloped in a Citrix Cloud is the tool that will help us achieve this. We are going to be able to expand our market presence by being able to meet the needs of more users. Workspace is a client-side app for any device and OS, delivering a user portal for ingest-ing all Citrix back-end services as well as loads of apps from popular SaaS vendors.  The Citrix Workspace offering has enabled us to work in sync with our partners and expand our scope of offerings. With the proliferation and growth of digital tools through technologically enhanced workspaces, we look forward to work-ing closely with our partners in 2019 to achieve our objective.