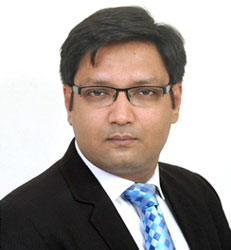 Verizon's ThingSpace platform, provides a web-based, open development environment that becomes the 'one pane of glass' for customers and developers to manage, develop and deploy IoT solutions."
Prashant Gupta, Head of Solutions, Verizon Enterprise Solutions India
What do you think is the most interesting use of the IoT?
Internet of Things (IoT) is a world of its own with all the living and non-living objects having sensors and monitors that transmit data through wireless network. IoT can be used to automate and monitor almost everything imaginable. Gartner Inc. forecasts that 20.4 billion percent connected things will be in use worldwide by 2020.  It has value for humans and every business from healthcare, energy, retail, connected cars wearable, autonomous vehicles, drones etc.When you add 5G connectivity, autonomous cars, smart communities, the industrial Internet of Things (IIoT), immersive education will all rely on 5G. 5G will usher in the fourth industrial revolution, paving the way for unprecedented innovations that will reshape the world.
How is IoT changing the digital landscape for the enterprise industry?
IoT is at the core of digital transformation for business. It's changing the playing field for business in every industry—helping to increase operational efficiency and fuel new growth. IoT is taking hold in almost every industry. In healthcare, it's helping pharmaceutical companies track and trace medicines from production to patient. In agriculture, sensors in the ground are providing near-real-time data about the health of crops. Drones are already being tested by Energy and Utilities companies to monitor remote infrastructure. And, from coast to coast, US cities are deploying smart solutions to help manage traffic, maintain public safety and attract new businesses and citizens.
The better enterprises get at collecting, integrating and analysing IoT data (also known as machine-to-machine or M2M data), the greater the business value and cost savings. Executives can make informed decisions based on real-time conditions, as well as increasingly accurate predictive scenarios.
5G is a fundamental platform to support the Internet of Things (IoT), which refers to the rapidly expanding number of devices that collect, transmit and share data via the internet. Enterprises will log an estimated $15 trillion in aggregate IoT-related expenditures in the next eight years. And by 2020, more than half of all new businesses will rely on IoT to cut costs, build efficiencies, and grow their bottom lines. For IoT to realize its limitless potential, 5G is critical. Many of the use cases for 5G technology literally haven't been invented yet.
How will IoT affect the everyday experiences of the people?
IoT connectivity allows customers to enhance their experiences in real time, making it the most direct way for businesses to improve their customer experience. IoT is creating a safer and secure world to live in. Cities and communities are looking at ways to improve citizen engagement, quality of life and safety while bridging the digital divide through IoT and infrastructure upgrades. This is because city officials are leveraging IoT and tapping into all kinds of data to make their cities safer, healthier and more efficient. In doing so, they are catering to the long-time urban citizenry plus the legions of young professionals flocking to urban areas where they demand 21st-century municipal services.
The ever-increasing implementation of low-cost sensors coupled with IoT platform technology is enabling cities to track and act proactively on a vast array of information, ranging from street disturbances to traffic conditions and air pollution. Connected medical devices can prove a life saver for people needing critical care.You can't reach the full promise of autonomous vehicles and infrastructure without 5G. Today's wireless network takes about 200 milliseconds to gather information and come back. With 5G, latency will be 10 milliseconds round trip to a point in our network, many times faster than the blink of an eye. This will be vital for driverless cars.
5G connected solutions can have a massive impact on public safety, citizen engagement and sustainability, all the while decreasing costs for municipalities and drivers alike. Verizon's Smart Communities services will leverage 5G to connect sensors and video cameras, monitor, report and act on traffic data in near real time, and to power other future smart cities use cases that are still being invented. 5G's blazing network speeds and low latency will spark unprecedented advancements in healthcare, transportation, safety, education and other areas we can't even think of right now. 5G will enable innovations that help cut congestion by monitoring and controlling traffic lights; alerting drivers of traffic delays; and providing smart parking solutions that identify available spaces.
These innovations will help smart cities manage energy and control carbon emissions by monitoring buildings' HVAC and lighting systems; reduce unnecessary use and provide timely maintenance. With 5G, these innovations will also improve water and power management by providing utility companies with analytics on supply and demand or system waste.
The first 5G cities will also be seen as business and technology hot spots. Cities on the cutting edge of technology attract business to those areas and create jobs.
What sets your IoT solutions apart from the other IoT providers in the market?
Up until now, the challenge has been managing, integrating and securing all the required data, plus having access to tools that enable developers to build IoT applications. That's where platforms come in and are changing the game fast. Today's IoT platforms address head on the complexity and fragmentation enterprises have faced in creating and leveraging IoT applications to realize measurable business value. Simply put, platforms provide enterprises with a quick on-ramp to IoT by bringing together all the components needed for an IoT solution. Verizon's ThingSpace platform, for example, provides a web-based, open development environment that becomes the "one pane of glass" for customers and developers to manage, develop and deploy IoT solutions.
The availability of mature platforms simplifies the development process and enables enterprise users to create new product and service categories—broadening the revenue stream and boosting customer service in the process. The ThingSpace IoT ecosystem furnishes full, end-to-end device integration and management, giving developers secure and simple access to a range of development tools and services, including reporting and analytics. Enterprises are in full control of their applications, easily and quickly activating and/or suspending devices as business requirements change. Our platform simplifies the model for IoT – making it easier, faster and more accessible to develop IoT applications and solutions that solve your complex challenges. Backed by Verizon's robust network and secure infrastructure, you have the freedom to realize your IoT vision.
At a time when the risk to Cyber security is higher than ever before, how does your platform propose to uphold IoT security in spite of excessive interconnectedness, which only makes Security that much harder?
Rarely does a week go by without headlines of a corporate security breach, so it's hardly surprising that security tops the list of enterprise concerns around IoT. The deployment of sensors and the enormous volume of data they generate increases the level of risk and can also impact insurance costs, brand reputation and relationships with business and supply chain partners. Moreover, a breach can be financially devastating. IoT security is complicated, IoT devices are built around different computing hardware than traditional computers resulting in the usage of less processing power and offering limited background processes.
Traditional computers can run anti-virus programs for security and require explicit user permission to greenlight processes. But IoT devices can't run these types of applications. In April 2017, Verizon launched its IoT Security Credentialing service, which adds an extra layer of protection through the remote provisioning and management of embedded Universal Integrated Circuit Cards in IoT devices. GSMA, the trade body representing mobile operators worldwide, has certified the service to provide application protection, authentication and data privacy for connected IoT solutions. The security credentialing service is designed to help reduce many of the security threats linked with today's IoT deployments, enabling developers to secure single points of vulnerability, and better protect IoT devices and applications regardless of the enterprise's service provider, or the type of transport being deployed—cellular, Wi-Fi or wireline.
Just as user names and passwords allow employees to access various networks and devices, security credentials issued to connected devices enable only trusted devices to communicate with the enterprise infrastructure. For enterprises, this means an added layer of security for both devices and apps. Also, with trusted authentication, the service lets enterprises give select employees and devices access to apps or IoT devices through encryption. Data privacy and security are maintained through encryption. Make no mistake: Network, device, data and application security will always be a top enterprise issue. IoT security is always going to be a work in progress, yet it's important to note that, more so than ever before, security is becoming more and more "baked in" to the IoT value chain on the platform, network and device level. It is a trend that will surely continue given the reality of increasingly sophisticated breach attempts and the ever-escalating financial risks they present.
What advice will you give to business leaders who are interested in incorporating IoT in their business models?
Now is the time, there is no business vertical that does not have relevant use cases, B2B can generate nearly 70% of potential value enabled by IoT. Manufacturing, transportation and utilities are leading the way with IoT investments in 2017. Yet insurance, consumer and cross-industry IoT investments, such as connected vehicles and smart buildings, will see the fastest spending growth. In the year ahead, IoT platforms will become more and more seamless and streamline the deployment of IoT applications, which will continue to make in-roads into the enterprise.  5G will massively expand IoT applications and drive innovation across all industries.