Helsinki Business Hub's Senior Business Advisor talks about the need for technological collaborations in the enterprise markets of India and Finland.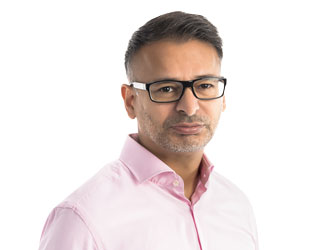 India, one of the fastest technologically advancing countries, is home to entrepreneurs and innovators who are looking for more than just resources and land. We understand the value of a holistic business space and our aim is to help businesses scale to Finland such that their end-to-end needs are met – investor, legislative, product development platform, talent, etc." "
Sandeep Shah, Senior Business Advisor, Helsinki Business Hub
How has been your journey in supporting Indian businesses expand into the Helsinki market?
We at Helsinki Business Hub have been working towards making Finland a conducive ecosystem that strikes the right balance between availability of technology, supportive legislation, funding sources and talent. Leveraging Finland's robust business and innovation environment is an opportunity available to Indian companies across verticals and sizes and our aim is to introduce them to it. Our Business Platform Development team has been instrumental in helping Indian companies find unique piloting opportunities in Greater Helsinki, as well as solutions and partners.
India, one of the fastest technologically advancing countries, is home to entrepreneurs and innovators who are looking for more than just resources and land. We understand the value of a holistic business space and our aim is to help businesses scale to Finland such that their end-to-end needs are met – investor, legislative, product development platform, talent, etc.
Working alongside our India partner PrEver, we have been able to help Indian technology companies explore and identify what's best for their venture and accordingly trace a path that leads them to their goals. The deepening of relations between the Indian and Finnish Embassies is also an encouraging reflection of the possibilities present.
Having said that, our work with Indian companies like Inteliment, a technology company specializing in data science and business analytics, DEFTeam and SRKay Consulting Group, has given us valuable experience in their industries and we are glad to have been a part of their journey to the European market. We remain committed to collaboratively working with Indian technology companies and hand-holding their leap to an ecosystem brimming with prospects.
How successful was Slush 2018 in pushing forward your mission?
Slush embodies the spirit of innovation and entrepreneurship and much like us, provides a platform for entrepreneurs world-over to exhibit their ideas and an opportunity to bring it fruition. This year, Slush hosted some of the best Indian start-ups – Stumagz's solutions, Forbes recognised Edtech solution of India, Zunik Energies, a start-up focused on inverter topology, Reckon Green, manufacturer of LED lamps that offer 800% longer life, Interview buddy, a cloud-based video interviewing platform, to name a few. The event has also flourished over the years due to the governmental support provided. This year, Embassy of India in Helsinki, in association with the Department of Industrial Policy and Promotion (DIPP) set-up a "Start-Up Pavillion" which facilitated about 30 start-ups and Nasscom's business delegation
World's biggest start-up event, Slush, has gained recognition for the influx of innovation and talent, and it has steadily matured into a platform for business collaboration, investments, networking and partnership.
Helsinki Business Hub is dedicated to bringing perks of Finland's business ecosystem to the foray and Slush enables the exchange of dialogue in an organic, natural setting. That, we believe, is the essence of Slush and our convergence point.
Why is growth of technology collaboration between India and Finland enterprises important? What are the benefits for both the nations?
India and Finland enjoy a dynamic commercial relationship with exports and imports showing significant annual gains. Finnish companies are also participating in the rapidly growing Indian economy while Indian Information Technology concerns are establishing their presence in Finland.
While the two nations differ in their developmental stage and size of economies, their nature is complementary, and both nations stand to gain from the association. Benefits include increased knowledge sharing, technology transfer, innovation collaboration, business interactions and substantial increase in volumes of trade.
Finland is known in India for its education system, especially K12. Exchange of best practises such as curriculum, pedagogy, teachers' training, and edutech, will drive India's efforts to refine and elevate the quality of education.
Aside from this, India and Finland's start-up ecosystem collaboration could help each country understand product requirements of the other economy. Biotechnology, as a sector, has seen India and Finland collaborate for R&D and academic programmes. While innovation, knowledge sharing, and technology partnership rank the highest, both countries' deepening relationship is expected to encourage tourism and strengthen cultural ties.
What are the challenges in the Finnish ecosystem which you help Indian enterprises overcome when establishing presence in Finland?
At Helsinki Business Hub, we go out of our way to make the path of an Indian company coming to Finland as smooth as possible. Our services are designed to achieve that. This involves all the possible practical considerations in helping companies to set up here. In addition, we provide a comprehensive view of the Helsinki business ecosystem and its opportunities and help Indian client companies successfully navigate within the local culture with many characteristics unique to Finland and its people.
For companies looking to expand to Finland, remember –
Every country brings its own code of conduct and it is imperative to pay heed to it
Finns are modest but take pride in their history and culture, including technological and athletic achievements. They value trust and honesty and appreciate punctuality
Finns value their reputation of living in an egalitarian country and hence, discriminatory or racist jokes are frowned upon
What are some success stories and use cases that stem out of your work helping businesses establish presence in Finland?
We have had a mutually beneficial working relationship with Indian technology companies and are grateful for the opportunity to be a part of their business scaling endeavour. A few companies' accounts are listed below to shed more light on our services' scope –
DEFTeam sets up its European home base in Finland
DEFTeam is a Red Herring Global 100 company (2011), a Silicon India 100 company (2013) and a CIO Review BI-20 company (2018). Its customers work in fields like banking, financial services, insurance, logistics, technology, supply chain management and retail. DEFTeam provides them with big data, business intelligence and predictive analytics solutions – both on-cloud and on-premise. The company currently operates in the United States, several Middle Eastern countries, and APAC countries like Singapore, Australia and India.
"We were so very well looked after. Helsinki Business Hub introduced us to various people in the business and offered us access to networking events. The visit was an important factor in our decision to set up a unit in Finland because we saw that the country and the Finnish government provided a very friendly and helpful business ecosystem," says CEO Gurpreet Singh from DEFTeam.
"Helsinki Business Hub helped us at each step of setting up the new unit. They introduced us to the Finnish business ecosystem and their wide partner network, offered consulting and advice, and connected us with various service providers, such as accounting and legal services." DEFTeam's Finnish unit is now up and looking for sales personnel to launch its business. The new unit will continue to serve DEFTeam's clients with big data, business intelligence and analytics needs, and the company is also planning to market its IP-based platforms UPRAiZAL, myLOGISTICZ and Data2Mobility in Finland. Furthermore, the Finnish unit will offer DEFTeam easy access to other European countries. "We plan to hire about 10 people in Finland in the next two years. The new unit will also help us access the wider European market. We plan to cover the entire Nordic area to start with and will then look at the UK and Irish markets. In the future, we are looking forward to making Finland the home base for all our European operations," Gurpreet Singh says.
SRKay Consulting Group makes Helsinki its home in the Nordics – Helsinki offers a valuable innovation ecosystem
SRKay Consulting Group, an Indian company that focuses on investing in and accelerating promising tech startups, has set up its Nordic headquarters and R&D unit in Helsinki. Helsinki Business Hub hosted SRKay's introductory visits to Finland, acquainting the company with the Finnish technology and R&D ecosystem. SRKay plans to use its Helsinki base to access other European markets and is looking forward to investing in Finnish startups.
"Setting up the Finnish unit has been very smooth, and Helsinki Business Hub has offered us excellent support. Investing in a distant country like Finland would have been a challenge, had it not been for Helsinki Business Hub. They showed us Finland's strengths and opportunities and helped us make highly useful connections. They were also instrumental in setting us up with Arctic Startup and the Arctic15 event, which we then co-sponsored to announce our launch in Finland and which turned out to be very useful, " says Alok Kumar, CEO, SRKay.
"We see SRKay as a global company with Finland as a strategic location. Our global vision is to be one of the most successful private equity and acceleration firms, generating a high success rate for every venture we accelerate, anywhere in the world. Finland will play a key role as a unique hub of innovation and R&D as well as in developing our business in the Nordic region," Kumar says.
What are your aspirations for Indian tech startups and enterprises in the Finnish Market in 2019? What is your message for Indian SMEs and startups looking to expand to Finland in 2019?
We at Helsinki Business Hub are great at helping investors invest in Helsinki and accelerating business growth in the area. India is one of the biggest start-up and entrepreneurial hub in the world and we actively seek to help technology companies, especially the ones operational in ICT, Data Centres, Health, Smart City, Smart Mobility, Smart Maritime and Investor services, optimize their potential by being in a surrounding that is conducive for innovation. Finland's robust business ecosystem complimented by a supportive legislative framework and mature technology, are the three pillars essential to kickstart any company's operations and Helsinki Business Hub is favourably positioned to help businesses avail it.
Finland is an ocean of opportunities and we at Helsinki Business Hub, are committed to helping Indian SMEs and Start-ups to find the right prospect, connection and platform required for them to set-up business here. The country boasts of a highly-qualified workforce, open public-private collaboration and a sustainable start-up ecosystem, all of which combined, make for the ideal accelerator for innovations.
Ranked no. 1 in the Europe 2020 Competitiveness Index, Finland is at the forefront of digitization, health solutions, health, smart and clean tech technologies. Indian companies looking at expansion should consider Finland for its conducive ecosystem, extensive local connectedness, and operating environment's stability.