Digital transformation is one of the biggest trends of our generation, and enormous resources are being poured into it annually. However, when we look below the surface, we see that 70 per cent of digital initiatives fail, according to Harvard Business Review.1 Many firms see sub- optimal ROI on their digital investments as the technology budget keeps increasing but results are not visible.
Overall, the rate of full digital adoption is fairly low. Based on my experience across key industries, the rate of full adoption has been only 5-10 per cent (though digital adoption has got a sharp boost over year 2020 because of the Covid-19 pandemic). For example, according to Celent (via The Financial Brand), only 11 per cent of banking institutions are executing an omni-channel strategy,2 while 50 per cent of banks are still only researching omni-channel capability. Personalization, in many cases, is also extremely limited. While Red Point Global found that 63 per cent of customers today expect personalization,3 BCG found that only 15 per cent of enterprises are true personalization leaders.4 The rate of real- time data leverage is extremely low, with only 1 per cent of all data collected ever analysed and used,5 and only 16 per cent of brands are very effective at delivering real-time interactions6
Why is there such a gap between potential and impact, and how can companies narrow that gap? The biggest problem is that most businesses today are playing catch-up when it comes to digital transformation. Instead, companies should learn from the digital natives and play offence rather than defence. Full digital adopters are able to extract meaningful impact from their investments, such as a 25 per cent increase in productivity, twice improved customer retention rates and two to three times faster growth than their peers.
Why problems persist for companies embarking on digital transformation
When it comes to digital transformation, frequently large enterprises struggle finding the root of their problems. In my experience of working with large legacy enterprises, I have seen four common root causes:
• Data infrastructure incapable of handling big data: The existing data infrastructure has limitations when it comes to leveraging unstructured data to drive insights. Originally created to deal with structured data, this infrastructure wasn't prepared for the explosion of big data. The pieces are hard to change once defined since the addition of new data dimensions requires expensive design and reprocessing effort. Moreover, legacy data infrastructure makes it very hard to get to a deeper level of granularity of insights. For example, when have you last seen a bank as precise at personalization as Amazon?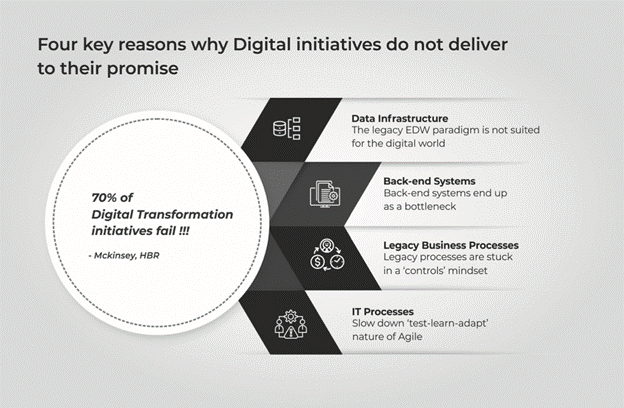 IT processes do not support experimentation and agile methods: Traditional IT deployment cycles, as they are currently set up in many legacy enterprises, are not designed to support and drive the 'test, learn, adapt' paradigm of modern analytics. These processes should be based on experimentation. If something has to fail, it has to fail fast. You try something, measure the results, fail, change things, try again. Instead, in a legacy enterprise, you have to first spend a lot of time doing the analysis and making sure you get it right the first time, because if you fail it may be fatal.
Back-end systems cannot handle real-time transactions: In most legacy enterprises, these systems end up being a bottleneck. They simply aren't designed to handle probabilistic choice-based workflows to enable real-time responsiveness to customer signals. Have you tried opening a bank account online? It's not possible, precisely because in most banks the back-end systems are not able to support this service or deliver real-time customer services online. As a result, businesses are unable to realize the true potential of tightly coupled systems and automation for real-time customer services and end-to-end transformation.
Legacy business processes are too slow given changing expectations in the digital age: The basic 'mindset' of these processes is all about control, risk management and being comprehensive. These processes were designed to get things right the first time without fail. As a result, businesses have built very complex processes to avoid failure. But, as with anything very complex, it is hard for it to be fast in real-time. The legacy mindset of the 'right-the-first-time' process design makes it difficult to drive iterative experimentation-based improvements. In other words, even if the technology works, business processes end up slowing things down.
Changing the Game
To achieve lasting change, I believe legacy companies need to stop playing defence and start playing offence. They should take lessons from the digital native companies that have leapfrogged them by reimagining these dimensions.
The main point is that digital initiatives themselves should be leading strategy and not the other way around. This will allow businesses to drive speed to market, unlock ROI and – most importantly – change the game from one of defence to offence.
Here are some specific and actionable best practices from digital natives that can help legacy enterprises significantly increase ROI from their digital technology investments.
A. Cloud-native architecture
This architecture is an essential piece of the puzzle, and luckily for us, it is already here. In recent years, cloud strategy has moved from enabling compute resources to providing an integrated platform as a service (PaaS). Gartner says that by 2022, 75 percent of all databases will be deployed or will have migrated to a cloud platform.
When fully realized, cloud standardizes technical skill sets, creating talent acquisition leverage and enabling improved development process, further accelerating time to market. Leveraging AWS, Azure and GCP (Google Cloud) provides the best-of-breed infrastructure, with the added advantage that these cloud providers continue to evolve and innovate at a rapid pace. That means enterprises can configure highly scalable end-to-end solutions quickly. So, what businesses need to do is to develop comprehensive cloud application and data migration strategies.
B. Agile and adaptive by design
Modern infrastructures must be highly adaptive, agile and measured. Continuous adaptation and experimentation must be built into the strategy. The good news is that cloud architecture allows new development models for maintaining continuity while integrating change. Agile architectures compose and avoid system/team monoliths, while adaptive portfolio management process is critical to success.
Experimentation and measurement drive impact-based prioritization. In other words, an agile mindset must be embraced by the organization to yield benefits. Outcomes must be continually measured and evaluated in order to keep up with changing business conditions.
C. Two-speed approach
What is the best and most effective, practical way for legacy enterprises to tackle digital initiatives? Despite my recommendation that they play offence and not defence, going all-out or adopting a 'big bang approach' might not be the right strategy in most cases. This is because of the iterative nature of digital; you need to allow time for experimentation, learning and course correction. On the other hand, focusing on narrow use cases would amount to playing catch-up and thus would have little to no impact. So, it is critical to develop your 'offence' approach thoughtfully.
About the Author:
Nitin Seth is CEO of Incedo Inc., a technology services firm focused on Digital Transformation and bestselling author of "Winning in the Digital Age: Seven Building Block of Successful Digital Transformation". Prior to Incedo, he was COO of Flipkart; Managing Director and Country Head of Fidelity International India; and Director of McKinsey's Global Knowledge Centre in India. He graduated in engineering from IIT Delhi and received his MBA from IIM Lucknow. For more information on successful Digital Transformation and to reach the author go to www.WinningInTheDigitalAge.com