As Industry 4.0 takes over the marketspace, Manufacturing sector in India is not far behind in leveraging the new age technologies. They are exploring these technologies and devising use cases to enhance their productivity and efficiency. And yet what we see today is only the beginning.
Disruptive technologies like IoT, AI, 3D Prinitng and Advanced Robotics are the forefront of the transformation of manufacturing processes around the world. While the supply chain and logistics industry stand to benefit greatly from Blockchain, VR and AR will go a long way in creating partnerships between man and machine. As IoT connects machines, Industry 4.0 enables AI assisted analytics and predictive maintenance.
"Industry 4.0 takes the emphasis on digital technology from recent decades to a whole new level with the help of interconnectivity through IoT, access to real-time data, and the introduction of cyber-physical systems. Industry 4.0 offers a more comprehensive, interlinked, and holistic approach to manufacturing. It connects physical with digital, and allows for better collaboration and access across departments, partners, vendors, product, and people."

Namrata Khanna, Senior Manager, Technology & Projects, Concentrix.
Not only does Digitization driven by these technologies helps companies achieve increased efficiency and productivity, but it also drives quality improvements and customizations. The Digitization of Manufacturing Sector in India is still in its initial stages as manufacturers have started leveraging these technological advancements recently.
According to the World Bank, India's manufacturing sector only accounts for 18.3% of the country's GDP as compared to 29% in China, 21% in Germany, 28% in South Korea and 20% in Indonesia. The Government of India has set an ambitious target of increasing contribution of the manufacturing sector from the current level of 16% to 25% of GDP by 2022.
A recent report titled 'Will the Next Transformation in Manufacturing be led by Digital?' by EY, notes, 'Within India, many medium and large companies have initiated proofs of concept (PoCs) across multiple domains including, energy, maintenance, dash-boarding, optimization, and analytics. However, these developments are still in their nascent stages and there is a lot to achieve. The Indian manufacturing sector continues to remain apprehensive about the benefits of embarking on an end-to-end digital journey.'
"The upcoming technological trends are going to act as a coin with two sides. On the one hand, we are witnessing a lot of competition from the global industry. Industrialization is going to have a major impact on the lives of people working in the manufacturing sector, especially those who employ people on a large workforce. For example the Automobile & Textile sector."

KM Sharma, Sales Head, Best Power Equipments (BPE).
Namrata Khanna, Senior Manager, Technology & Projects, Concentrix, elaboratess, "Providing manufacturers with the opportunity to utilise advanced manufacturing capabilities and IT throughout the product lifecycle. As a result, manufacturers are benefitting from increased efficiency in operations, substantial cost savings, faster production times and the ability to provide excellent customer support. Manufacturers are increasingly leveraging the IoT, which entails the interconnection of unique devices within an existing Internet infrastructure, to achieve a variety of goals including cost reduction, increased efficiency, improved safety, meeting compliance requirements, and product innovation. IOT, AI, BOTs, RPAs, Machine Learning are some of the key IT technologies which are making great impact on Manufacturing sector in India."
Given that the Indian manufacturing sector is levitating towards steadily leveraging the new-age technologies in favour of a streamlined and digitized manufacturing process, the only way individual manufacturers keep up with the race is by embracing the change of technology trends.
Sharing their digitization journey Diwakar Belavadi, Director – Operations & Strategic Projects, Citadel Intelligent Systems says, "In CIS, we have laid out a 'Digital Factory' roadmap which encompasses concepts of Industry 4.0, Connected Machines, Selective automation of few of our critical manufacturing processes, Digital Work Instructions, use of RFID technology for Production Tracking, Logistics & Warehousing. This is the key to enhance the overall efficiency and effectiveness of our organization. We have also used digital technology effectively for our data storage and data retention processes. We have automated data storage and retention processes using cloud technology in our organization. In addition to the above, we are also implementing 'Digital Command Center' in our organization to assist our Business Intelligence and HR processes."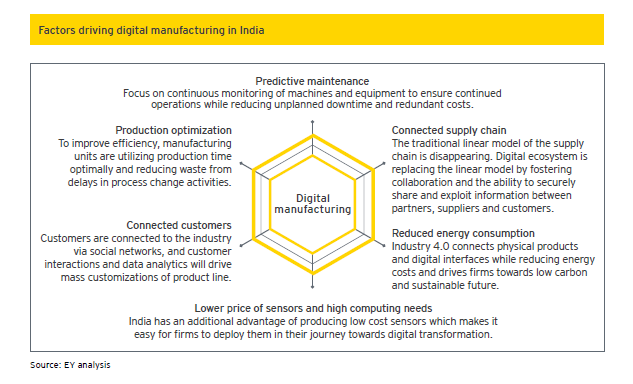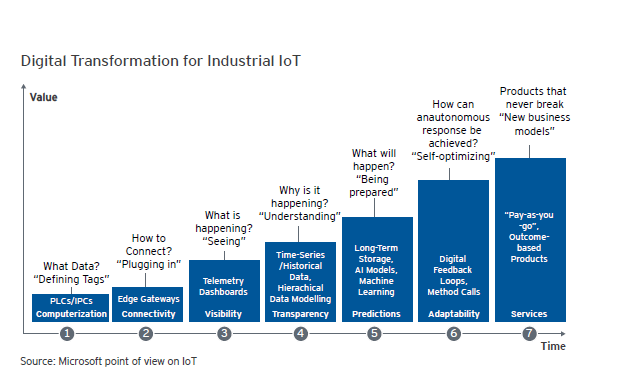 Use Cases
Namrata Khanna, Senior Manager, Technology & Projects, Concentrix elaborates on how her organization is using SaaS based dealer management system. The key features of this system are:
A flexible system that can evolve with a rapidly changing market needs
Features that help you design and run marketing campaigns
Facility to monitor and record customer satisfaction trends
Functionality that helps in running and managing after-sales activities
Increase customer satisfaction index
Functions that enhance revenue and utilization
Diwakar Belavadi, Director, Operations & Strategic Projects, Citadel Intelligent Systems shares use cases of disruptive technologies in his organization.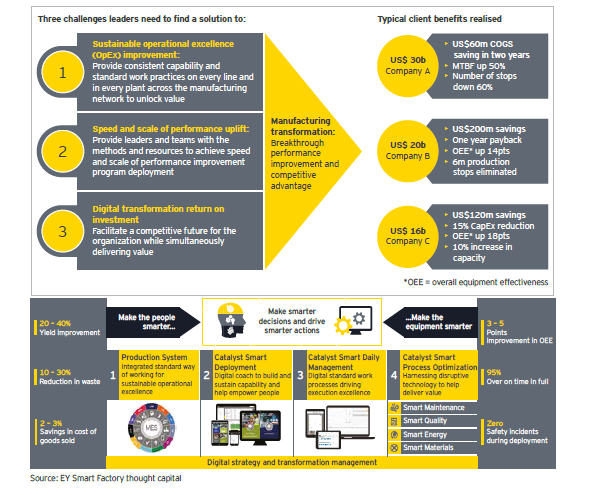 SAP
We have a full fledged implementation of SAP B1 version which runs our Supply chain operations in our organization. SAP B1 is fully integrated with the Sales Planning, Manufacturing & Material Planning, Quality Assurance, Plant Maintenance, Procurement, Finance & Accounting, Logistics & Warehousing and Sub-contracting processes in our organization.
Cloud Computing
CIS as an organization operates without a "Physical Server" concept. CIS has designed its Data storage and retention mechanism built on a Cloud Server concept. Our SAP B1 server is hosted on NTT Cloud servers backed up by Tier 3 cloud retention architecture. Our Data is hosted on MS Azure server. The data backups are automated with the help of cloud service providers who back up data at multiple intervals during the day. Our emails also run on Google cloud platforms with structured backup mechanisms.
Finally…
Digitizing the manufacturing sector will be a long journey for the Indian marketplace. Challenges are bound to come up but the multiple advantages that such a system accrues will continue to drive the manufacturers to test their limits.