Vinay Sinha, Managing Director, India Sales at AMD
"AMD EPYC CPUs and AMD Radeon Instinct GPUs power a VDI offering from Microsoft Azure called NVv4."
How are enterprises re-imagining the data center?
The IT landscape is in a constant state of evolution and is at the forefront of digital transformation. In the current times, IT leaders are reimagining their on-premise data centers to simplify and scale their IT infrastructure for better outcomes. This is driven by the current and the future way of business functioning and the need to gain insights and analyze vast amounts of data quickly and maximize returns on the data center investment. Adding more compute power, Virtual Desktop Infrastructure (VDI), moving to the cloud for better performance, better optimization capabilities and lower cost, results in maximizing the returns on data center investment.
High performance continues to be a top priority with rapidly growing volumes of data, apps and technologies. IT decision makers are looking at creating robust IT infrastructure that is flexible, powerful, efficient, secure, and simple to manage. This is why hyperconverged Infrastructure (HCI) is an effective option to consider for enterprises. It takes in all the elements of a traditional "hardware-defined" IT infrastructure and evolves it into a "software-defined" virtualized environment that is simpler to manage and operate. HCI provides the scalability and simplicity of the cloud with the performance of on-premise infrastructure. This in turn opens fresh opportunities for enterprises to digitize faster, innovate more with increased efficiency.
How are data center solution providers meeting the evolving modern computing needs?
Enterprises have been looking at ways to address their challenges around space, power and optimization to bring better ROI on their server spends. Changing business dynamics are pressing IT decision makers to seek more with less – more performance and scalability with reduced power, which can lead to better TCO. Today, companies like AMD are helping data center customers enable hybrid, multi-cloud approaches for their IT environment, which allows these customers to be more versatile and agile in a virtualized environment. The drive to virtualization and hybrid-cloud computing has propelled a paradigm shift from physical to virtual infrastructure. Now storage is virtualized along with computing.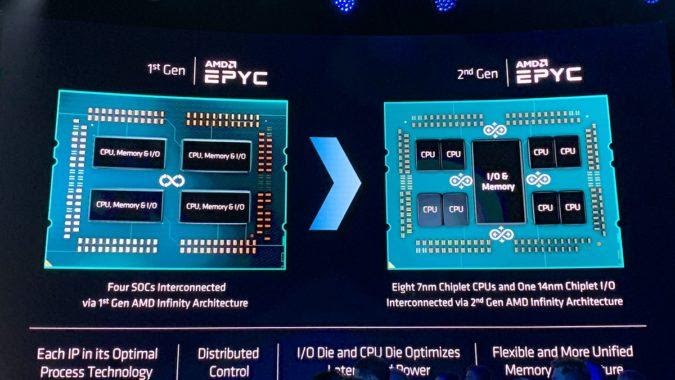 At AMD, we understand the needs for software-defined infrastructure. Whether organizations build software defined storage appliances, virtualized environments, or hyper converged systems, AMD EPYC processors offer the CPU and I/O performance, flexibility and security features that enterprises can take advantage of. In fact, AMD EPYC processors, the underpinning of many of these hybrid-cloud and virtualized data centers, have delivered record-setting performance across enterprise, virtualization, cloud and high-performance workloads.
What are Virtual Machines/Virtual Desktop Infrastructure (VDIs) and its role in enhancing server capabilities?
Virtual Desktop Infrastructure (VDI) is a type of a virtual machine and in its simplest terms, replicates a full computer desktop through a virtualized instance; meaning a user can access something like an immensely powerful rendering system through a browser. Historically, VDI pushes virtualized servers to the very edge of their capabilities. Today, VDI is bringing an even richer user experience to a mobile and distributed workforce. VDI enables IT administrators to enhance centralized control and protection over business-critical data while supporting collaboration. A better user experience is tied directly to server capability. Industry-leading core count coupled with class leading memory capacity and bandwidth enables optimal virtual desktop density and performance.
VDI has evolved significantly in recent years, achieving unprecedented levels of mobility, capability, versatility, and security. AMD EPYC CPUs and AMD Radeon Instinct GPUs power a VDI offering from Microsoft Azure called NVv4. This VDI offering allows customers to choose the amount of GPU power they need for their workloads, from 1/8th of a GPU all the way to a full GPU for heavy rendering and design work.
Why are top public cloud service providers and enterprises in the world are relying on AMD for compute?
2nd Gen AMD EPYC processors are a new breed of server processors which set a higher standard for data centers. Cloud service providers and enterprises are incorporating AMD EPYC processors to access features including PCIe 4, class-leading memory bandwidth and AMD Infinity Guard security features. More importantly, these customers are utilizing AMD EPYC processors for its performance capabilities across enterprise applications, virtualized and cloud computing environments, software-defined infrastructure, high-performance computing, and data analytic applications.
Enterprises are migrating tasks and sensitive workloads to the cloud for reasons that include ease of management, scalability, security, and reduced costs. In line with this, at AMD, we believe that setting up a comprehensively agile and reliable data center ecosystem will significantly empower dynamic businesses to make smarter decisions, and AMD EPYC Processors help make that happen.
The ecosystem of OEMs and cloud providers using AMD EPYC processors continues to grow, with more than 120 cloud instances and OEM platforms using AMD EPYC processors to date.
AMD advantage in offering modern datacenter solutions
A balanced and optimized IT infrastructure, workload acceleration, and data protection is a must for enterprises to be competitive. AMD has been on the forefront of solving these challenges by delivering leadership innovations. Our 2nd Gen AMD EPYC processor is the world's first x86 datacenter processor based on leading edge 7 nanometer process technology, providing leadership performance and architecture with advanced security features.
Our processors are bringing new balance to the data center for enterprise workloads in hyperconverged infrastructure, commercial HPC, and relational databases. With the world's highest per-core performance x86 server CPU and the highest core count in an x86-architecture server processor, we are uniquely positioned to aid the modern data center with solutions that provide with high performance capabilities.
The AMD EPYC processor portfolio helps to run a virtualized infrastructure, thereby reducing the footprint of equipment required to meet the business needs. With this, we are bringing new levels of server performance for the modern data center.