Piyush Somani, Managing Director & Chairman, ESDS Software Solution Limited
The onset of the pandemic is believed to have forced the CIOs across the industries to enhance their focus more on operational agility. To remain competitive in their respective business areas, it has become important for businesses to adopt Digital Transformation. CIOs and business heads may also require to focus on talent retention and improved relationships with their stakeholders.
Impact of Pandemic on Demand for Data Centers in India
As per the IT spending survey, more than 65% of India's enterprises have realized the benefits of opting for Cloud to acquire new clients, serve the existing customer base, and achieve good profitability. ~81% of corporate organizations have adopted Cloud services in the wake of the pandemic, with the implementation of work from home culture. During the first quarter of 2020, spending of enterprises on Cloud infrastructure increased by ~35%, compared to the fourth quarter of 2019. (Source: Ken Research).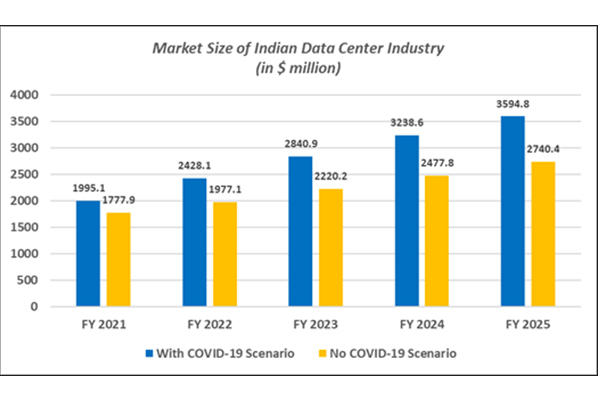 Key Trends Impacting the Data Center Industry
(Source: Ken Research)
Indian cloud services market has grown at a CAGR of 27.8% during 2015 to 2020 and is expected to grow at a CAGR of 34.7%, from INR 284.4 billion in 2020 to INR 1,261.7 billion in 2025.
The data center boom in India is likely to be driven by factors such as:
Giving companies access to technological capabilities
The wave of IT adoption led by cloud computing, has allowed firms to transform the backend operations, resulting in enhanced value proposition for the customers. Cloud service gives companies of any size access to technological capabilities, which were previously accessible to large enterprises only. In India, the industry has gained momentum with more than 200 data centers and more than 10 cloud operators, targeting an industry market size of USD 3.8 billion in Fiscal 2020.
Booming Internet Penetration
The drastic fall in cost of 1 GB data from Rs. 269 in 2014 to Rs. 6.7 in 2020, coupled with improved availability infrastructure has led to increase in the internet penetration from 35% in 2016 to 45% in 2021. During 2016-20, India added ~354 million internet users totaling 696.7 million users in 2020. It is further expected to grow to ~975 million by 2025. In 2021, there were 448 million active social media users, comprising 32% of total population.
Opportunity to target global clients
Indian IT firms hold a strong reputation for its IT and software related competencies globally. The emergence of SaaS unicorns and increased recognition on global stages has further fostered the confidence. Traditionally being considered as IT outsourcing market, India is now shifting to product developer and service provider stage. >70% of IT/BPM industry revenue has been attributed to exports, led by IT services accounting for 54% of total export value followed by software products and engineering services at 23%.
Adoption & usage of cloud by the Government for its key projects
The Government of India implemented its ambitious digital India program to address the infrastructural weaknesses that will lead to significant growth in the cloud industry in India. These include "DigiLocker", a digital wallet, which is a cloud-based platform for sharing and verifying critical documents and certificates. As of 2020, the platform provides access to over 3.45 billion digital documents, "e-Gram Panchayat", an initiative to simplify and enhance internal Government operations, Indian Railways on cloud – The Indian railway sector faced monetary losses due to poor management on the number of people carrying rail tickets. In order to avoid such loss, the Government decided to implement cloud technology for Indian railways, "Kisan Suvidha", a digital portal to help farmers with the relevant information instantly, "e-hospital", a cloud based healthcare project implemented by the Government to ease the process of healthcare management.
Concluding Words:
The above are just some of the trends that may dominate the Data Center domain, mostly driven by challenges incurred due to the pandemic. With data constantly rising, we hope to witness more disrupting trends that will result in enhanced & secure data hosting within Data Centers. When implemented within Data Centers, Advanced Technologies are likely to boost the hosting services of Data Center providers.
Read More News: https://www.enterpriseitworld.com/
Watch CIOs Tech Perspectives: https://ciotv.live/
Read IT Partner News on: https://www.smechannels.com/