What does it take for a CIO to become a true asset to its employer? How can a CIO help shaping the success of a business? What characteristics do we expect from a world class CIO? Do we expect a CIO to be more on the business side or shall he or she remain more on the tech side of things? What's the right level for a CIO to tie into an organization?
Of course, these and many more of similar questions and nuances of what the ideal CIO has to be like are being discussed in countless articles, on social media, in events and various forums.
Being a CIO myself and being around the block for some years and so across various industries, I believe it's fair to say that I've a strong opinion on what a CIO has to be like in order for him or her to contribute the utmost to the success of a business.
The CIO Core Capabilities: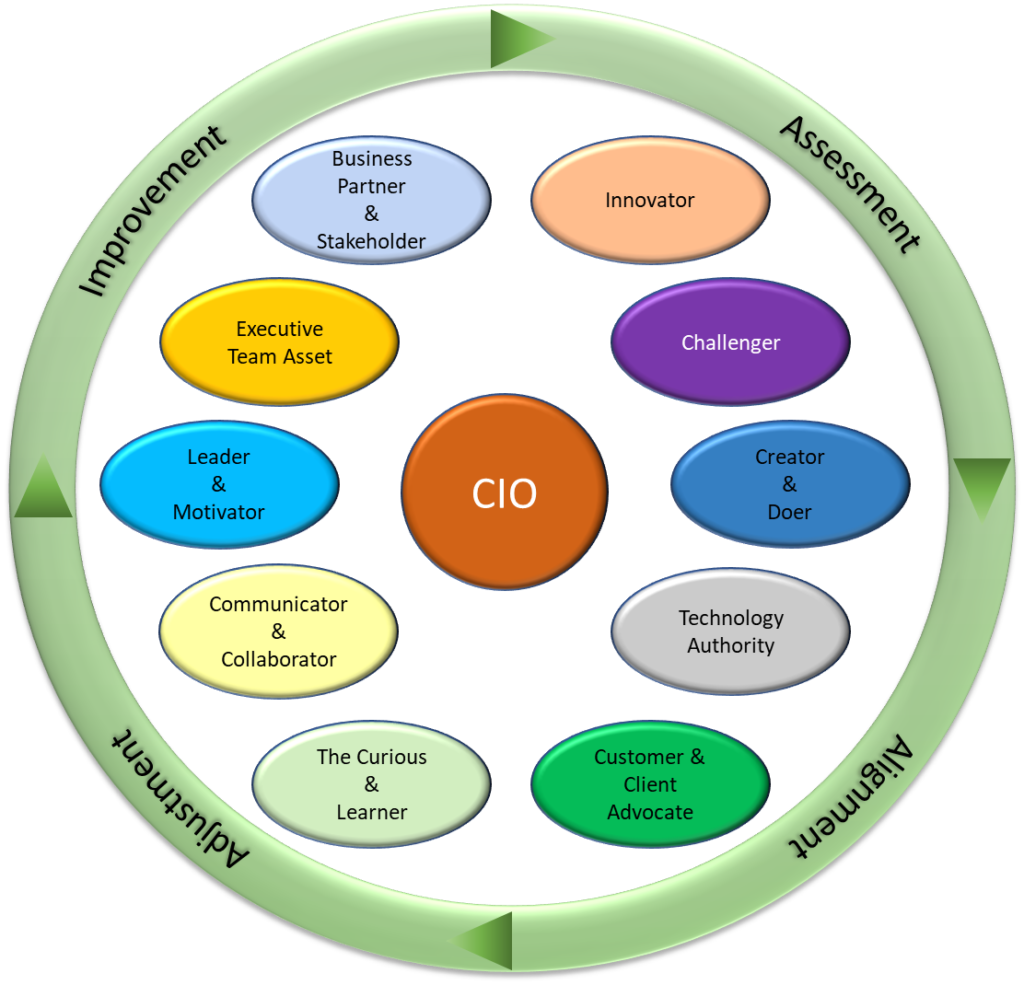 Business Partner & Stakeholder
Successful CIOs have to become "part of the business" – which means that they've to become a logical extension in any aspect of the business, work closely with the respective business stakeholder, become a natural asset, sparring partner but also a trusted source of input and opinion to the respective business stakeholder from the strategizing and planning stage to deployment, operations and continuous improvement.
Executive Team Asset
For any CEO, for any board and so in any industry, it has to be the goal and a natural choice of having the CIO as a member of the executive team. In this digital era where businesses transform, automate, digitize etc. a CIO on the executive team is an invaluable asset. However, a CIO on the executive team has to earn his or her seat, has to prove its value and position by exposure and evidence of the core capabilities from above image.
Innovator
The CIO has to be an innovator, a creative mind that constantly evaluates opportunities on how to help the business to become more profitable, more productive, more cost effective, more competitive etc. By doing so however, the CIO must not just innovate from a technology perspective but also by considering the organizational as well as business process aspects and all of it in close collaboration with the respective business stakeholder = "buy-in".
Challenger
A valuable, respected and successful CIO isn't just a "yes man" (or women) or servant of the business. He or she has to listen, to understand, getting involved, assuming ownership but also openly, respectfully and transparently challenges the status quo, questions established routines or behaviors, challenges unrealistic expectations (eg. insufficient funding, budget, timelines), maintains eyesight with executive peers and the board.
Creator & Doer
The "proof is in the pudding" as they say – which means, the CIO (btw, not only the CIO!) is expected to deliver, to get things done, to justify its position, to justify the investments which were approved in response to the company budgets etc. Even the greatest accomplishments however are often overlooked or taken for granted by them not being communicated, promoted or celebrated sufficiently (refer to "communicator and collaborator").
Technology Authority
of course, one may think, who else but the CIO has to be the technology authority or advisor? Let's keep in mind however that many successful and high-caliber CIOs may not come from a technology background but out of a business function instead. Even though, the CIO has to be astute with business relevant technologies, emerging technologies, trends or opportunities etc. so that he or she can advise the executive team or board and to provide meaningful guidance for his team to dig deeper as and where appropriate.
Customer & Client Advocate
In this digital and transformative age, businesses need to be aware and to accept the fact that "digital" changes the way that we work, how we conduct business, how we operate, manufacture etc. As such, the CIO needs to be in the face of the customer (not just the "internal customer") in order to first-hand understand customer / client expectations, needs, concerns etc. and to respond to them accordingly (in alignment with the business stakeholder!). At the same time, the CIO has an opportunity for brushing-up the company's image, providing some competitive edge etc. in front of the customer / client by introducing them to eg. the "digital agenda" of the company.
The Curious & Learner
Ideally (in my mind!) a CIO not just moves from company to company within the same industry or segment but much rather comes from various industry backgrounds and insights. That's an invaluable benefit (in my mind!) for any company as a CIO (and not just the CIO!) can be the incubator of new ideas, different best practices etc. However, at the same time, a CIO foreign to a certain industry has to make a severe effort to learn and to understand the business that he or she is in now. As such, the CIO has to be curious, has to be eager to learn, dig into some level of detail even (eg. business processes) and seek interaction across the various levels of a respective business function.
Communicator & Collaborator
Change and transformation is the "new normal" and with the CIO being a member of the executive team, a transformation advocate, a change agent etc., the CIO (and not just the CIO in the executive team!) assumes a very critical role when it comes to communication and collaboration across all business functions. Keep in mind that more than 50% of transformation initiatives fail or don't deliver the desired results and more than 70% of the reasons for failure are related to organization / culture / people etc. (all according to market data!). Communication, transparency, clear objectives, measurements, collaboration etc. etc. are of utmost importance, significance and a prerequisite for any change and transformation to become a success. The CIO has to put him or herself at the forefront of any effort in the benefit of communication and collaboration and, in many cases, even becoming the role model for nurturing a culture of communication, collaboration and transparency across the company. For the CIO to be more on the extroverted rather than the introverted scale of personality is certainly of benefit.
Leader and Motivator
With the CIO being expected to be a business enabler, a transformational leader, an open minded and innovative individual, a business minded executive etc., leadership and motivational proficiency are second to none in the successful CIO. Long and far gone shall be the days where CIOs had the luxury, the freedom and the desire for building inhouse IT teams of comfortable size, with lush budgets, casual delivery timelines, etc. The modern and transformative CIO is expected to run an agile organization, to promote an "anything as a Service" culture complemented by a lean core competency organization, maximizing output, closely interacting across business functions, etc. This all puts high pressure, stress, stretch and often triggers concern and fear within the CIO's organization (same applies of course to other functions in a company as well and thus challenges all executives alike). However, as a proficient and strong leader, the CIO is expected not to just build a strong team by hiring the best people (great leaders don't hire second best – the go for the best and don't shy away from being challenged!) but to compose a world class organization (internal + external resources) from the assets at hand. People will excel in their jobs when they receive clear stretch targets with defined objectives, when they're being kept informed and abreast of changes, when they're being motivated, appreciated and developed to best perform their jobs and to grow as individuals. A great CIO isn't hiding him or herself in the office but is among his team and closely aligned and interacting with all the resources (internal + external) involved in the provisioning of a world class service to the organization.
About the Author: Herbert Fuchs
Herbert is a versatile and highly accomplished CIO/CDO level executive with a career track in enabling companies to be successful in their digital transformation journey while identifying the most disruptive and innovative technologies as appropriate for the respective industry.
Herbert's professional career over the past +25 years is with landmark name corporations across various industries where he had the opportunity of being instrumental in significant transformation and optimization initiatives with global footprint and scope.
Throughout his career, Herbert established himself as an innovator, achiever and thought leader across the "build", "run" and the "transform" spectrum of IT and the business.
Herbert holds an MSc in Information Security as well as an Executive MBA in Information and Communication Technology.