The primary growth drivers in the markets are cloud adoption led by digital initiatives and transformation. This trend is triggering movement of workloads from on-premise Data Centres to hyperscale Public Cloud and hosted Private Cloud in varied degrees, based on the digital objectives of the enterprises. This in turn, is triggering transformation of the traditional network architecture, and transformation at the edge which connects the end user. The need for digital services like analytics, data lakes, IOT etc are shifting the balance to adoption of hyperscale Public Cloud vs Private cloud. Collectively, these trends are generating opportunities for full scale Cloud, DC and Network service providers with digital services skills.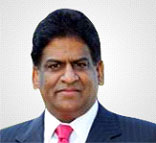 The last two years has seen private Indian enterprises, and the government, rethink the role of IT within their organisation. While there is continued aggression in their adoption, we are seeing a distinct maturity in the profile of services being contracted. The wisdom to contract with a single service provider is also allowing global MNCs entering India to shrink their go-to-market time. Our focus, this upcoming year, will be to solicit disruptive contracts that would help us build a unique portfolio of knowledge-driven Cloud and Managed services,"
Raju Vegesna, Chairman, Sify.

With Cloud@Core at the heart of most of our service lines, over the past year, we have been able to establish our strategic relevance to customers in their Digital Transformation journey. Today we are one of the few Indian companies which serves the entire cloud spectrum of Cloud Enabling, Cloud Inspired, Cloud Pure and Cloud Enhanced services. These have also strongly supported the growth of our Telecom business around the SD WAN, Cloud Interconnects and Intelligent Edge networks."
Kamal Nath, CEO, Sify.

KEY WINS AND BUSINESS HIGHLIGHTS
25 prominent customers signed to have their workload migrated from their on-premise DC to multiple Clouds platforms including Sify Cloud Infinit, AWS and Azure. These cover key verticals, such as Power, Insurance, IT, Logistics, Real estate, Media, Healthcare, Mobility solutions, Enterprise messaging and IT risk management.
21 major logos signed up for greenfield Cloud implementation from verticals such as eCommerce Logistics, Investment Finance, IT, Manufacturing, Retail, Consulting and Healthcare among others.
16 major signups were recorded for Disaster Recovery as a Service. Among them were clients from retail Home Appliances, Automobile Finance, Automation Design, IT and Home Finance.
11 customers moved from competitor DC to Sify DC while 10 customers moved from their on-premise DC to Sify DC across Power, IT, Retail, Media and Communications and Healthcare verticals.
3 State Governments and a SmartCity in Central India contracted to have Private Cloud commissioned at the DCs under the National eGovernance Plan.