India is a land of contrasts, and you don't have to travel far to see them. Standing at a train station in Kolkata, you'll see people streaming the cricket in HD on their smartphones while, at the same time, packing into carriages that don't have any seating.
In many ways, India is missing out on 20th century development. Many people in the country don't see the point of adopting last century's model and then working towards the 21st century lifestyle enjoyed in the West. Instead, there's a drive to get there in one great leap, if you'll excuse the expression.
That's leading Indian startups to make some very interesting uses of technology. They're not going in for the old-school approach at all. Instead, they're looking for radically new ways to access consumers.
It's worth pointing out that 86 percent of the world's consumer population lives in developing countries. Not much is said about them on the world stage because of their lack of purchasing power. However, hundreds of millions of people are moving out of poverty into the middle class every year. And the pace of change is accelerating.
Indian SMEs know this, which is why they are looking for ways to use tech to reach more of the population. According to recent estimates, more than half of people living in the country don't have access to an indoor toilet. However, more than 70 percent use the internet every month.
Reaching New Customers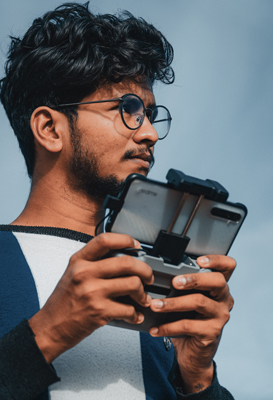 To reach new customers, Indian startups are creating their own opportunities. They understand that they can't simply adopt a western model, especially in a country like India where human needs are so diverse.
Take the online ecommerce platform, IndiaMART, for example. On the face of it, it seems like another Alibaba or Amazon, but it is fundamentally different. The platform offers everything from culinary delicacies for the emerging middle class, as well as cow dung for rural farmers. It's this mix of products that makes it so unique. Usually, those would be wholesale items, but not in a market like India's.
Brands, therefore, are trying to facilitate new connections with rural consumers. They understand that 21st century business models can be applied, but they need to think outside of the box. The fundamental value they offer is the ability to deliver goods where they're needed. And they're relying on high rural smartphone takeup to achieve this.
Modernising Markets
We're also seeing the growth of firms that are blending their online and offline operations. This way, they are more able to reach people who live outside cities and don't have access to shops.
Marketing is becoming easier too. Startups can now download a brochure template, fill out the details with their own content, and pass it onto customers at low cost, both online and in-store.
Digital Wallets
Lastly, Indian startups are getting into the e-wallet space. Most Indians are underbanked, according to the World Bank. For that reason, they can't access traditional financial services, such as a bank account. 
Now, though, that's all changing. Sellers are offering consumers their own wallets so that they can deposit money and buy their products — a little bit like how eBay created PayPal for western consumers.
Read More News: https://www.enterpriseitworld.com/
Watch CIOs Tech Perspectives: https://ciotv.live/
Read IT Partner News on: https://www.smechannels.com/