With over 460 million internet users, India is the second largest online market in the world. Ably supported by a futuristic government with favorable policies and a country-wide digital revolution, India is on the cusp of unprecedented data explosion which will not only test the country's current storage infrastructure but demand much more The answer is Hyperscale Infrastructure.
[quote font="tahoma" font_size="13″ font_style="italic" color="#262626″ bgcolor="#f9f9f9″ bcolor="#5f9dc0″]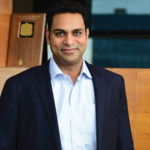 "Today, the infrastructure in India consists of state of the art Tier 3 and Tier 4 datacenter facilities that boast traditionally 8-10+ MW power capacities. The current infrastructure is likely to fall short in the face of the anticipated exponential growth of data that the country is expected to encounter. India needs a Hyperscale data center infrastructure."
Sridhar Pinnapureddy
Founder and CEO
CtrlS Datacenters
[/quote]
A billion strong customer base with an open mindset, a flexible government with favorable policies and a country-wide digital revolution. India today is at the Center of all future hopes of the world economy. A land of opportunities for the big corporations with massive scope for digitization and technology enablement, India has almost suddenly exploded on the world internet map. With over 460 million internet users, India is the second largest online market, ranked only behind China. By 2021, there will be about 635.8 million internet users in India. These numbers are not just mind-boggling but unprecedented anywhere in the world. Indians today dominate the world internet (the one with no communal barriers and repressive governments), be it the traffic on social networks, audience for online media consumption and the biggest e-Commerce customer base in the world, contributing to majority revenue shares for leading Silicon Valley giants. Sridhar Pinnapureddy, Founder and CEO of CtrlS Datacenters, Asia's Largest Tier-4 Datacenter and Managed Service Provider opines, "India is a market the no global business can ignore today, be it an ecommerce player, technology services (or) any product company. The technology infrastructure in India combined with the anticipated data privacy law will surely mandate financial services, ecommerce, services players to host their applications in India requiring large storage capacities to address the foreseeable demand".
The internet explosion in India combined with IOT deployment, cloud adoption by businesses large and small alike the storage requirements will keep getting bigger and bigger. It is reported that 90% of world's data was generated in the last twenty four to thirty six months and it would continue to grow in future times to come. This is truly the next wave of development for India with a certain promise to list the entire country from its struggle of third world development and put India at par with the global first world superpowers. This entire massive revolution is powered by Data, which is undoubtedly the new oil in world economy, and India today is like a volcano of data exploding rapidly. With the entire country set for a digital revamp, the data being produced today is humongous and this has already resulted in a demand for a massive storage infrastructure, and this demand is expected to grow exponentially in the coming decade. This creates a massive gap which needs to be fulfilled in terms of storage demands to cater to the exponential growth which is expected. Let's take a look at the factors driving this growth and what will lead to the future explosion.
The socially empowered massive online industry
India has been at the forefront of the global social media revolution, voicing opinions and showcasing their talents. People of all ages have absorbed Social Media into their lives, right from the teens to the old, with a dominant footprint across social media networks like Facebook, Twitter, Instagram, Pinterest, LinkedIn and YouTube. Sridhar continues, "In the last five to ten years the data growth has been moving upward slowly and steadily. From just being a pure internet user to using mobile phones, to smart phones with cameras; then going onto then going on social media sites and posting all kinds photographs and videos from end-user perspective, however from a business perspective growth in ecommerce, mobile payments, online banking, online financial transactions (stocks, insurance, etc), e-governance (online tax filing, online railway ticket booking etc) have led to data explosion in India, requiring huge storage capacities to accommodate them".
The internet has been embraced by an estimated 460 million internet users in India – It's like never before and a huge share of bandwidth and network traffic goes to ecommerce websites (big and small) being delivered across the length and breadth of the country. The power and prospects of the Indian customer base were quite clearly seen very recently when Amazon ended its Prime subscription on the 17th of May 2018 and organized a two day sale later. This prompted millions of Indians to go on the website and in turn generated million different packets of customer data for the global giant. This apart, customer data is leveraged by organizations to understand customer perceptions and not only for those customers who shopped but those who did not. Analytics helps businesses to understand not just which 20 million people of the 500 million plus traffic bought but also helps understand why the 480 million did not buy. This enables businesses to take better marketing decisions, to make sure sales are more impactful next time. India is a very potent market with a young population and a growing customer base, resulting in a favorable playing field for international companies.
Smart Cities, IoTs and Sensors
Growing wireless connectivity has spurred Smart devices and internet of things across all walks of life. Sensors are being deployed and leveraged to capture all kinds of information and then process it in real time. The use cases are diverse ranging from Smart residential areas to smart manufacturing. Automotive manufacturers have been experimenting with sensors for autonomous driving, traffic advisory and even anti-theft mechanisms. Going by the numbers, India sells over 5 million vehicles a year. "Adding sensors will not just fuel a significant amount of revenue but it will witness data captured from millions of cars every second, explains Sridhar, "Due to compliances and regulations this data has to be stored for a minimum of 3 years. This will result in a million such pings happening every microsecond, and all this needs to be recorded and stored somewhere. This kind of data demands a storage revolution.
Not just cars, sensors and IoT use cases have been growing rapidly from Smart appliances, personal assistants, to niche products like pet sensors. In the services industry, sensors have opened a whole new box of opportunities. The applications have been growing with the development of smart cities. Residential sensors are used in apartment buildings and homes to solve various issues from water works and sanitation to electricity distribution, parking and identification facilities. An average residential apartment would need close to a thousand sensors to keep the plumbing error free.  Each metro city has at least a million houses and even if each city deploys half a million devices, the data from these sensors will be humongous.
Neeraj Vetkar, Head IT, DMart Group who has been an Industry veteran too concurs, "India will have 2 million IoT devices deployed across the country besides the 460 million internet users engaging in online transactions. Business Analytics, Artificial intelligence, social media, virtual and augmented realty in addition to IoT will result in rapid growth of data. The only way such data can be managed is not through in-house infrastructure but through large data center facilities who have the ability to scale on demand, provide highest uptime to keep the business operational seamlessly".
The mantle for such technology success lies with the role that the Government plays. For the first time in the history of the country, the current government led by NDA under the able leadership of Shri. Narendra Modi has been driving the digitization and technology enablement of the common man. Such favorable government outlook goes a long way in giving the right backing and support to ensure success in such large scale projects. The recent push of the central government towards Digital India and the Smart Cities platform has opened up numerous new use cases like traffic management, public transport, sanitation, electricity and water supply where IoT devices and sensors will capture large amounts of Citizen Big Data and convert it into meaningful utilization and action. Managing and synchronizing this data needs a revamp of the storage infrastructure in the country and data centers at scale to keep up with the growing demands of the country.
The Government push towards Citizen Data Privacy
With EU GDPR now in strict enforcement, the Indian government has been contemplating on bringing regulations to the Data Privacy landscape in India. The IDPR or the Indian Data Protection Regulation, an equivalent of GDPR in Europe is in the making. One crucial aspect that is expected to come up as part of the Indian regulations is that the Indian law would require organizations to house the data transactions of all Indian citizens and all business transactions to be stored in India. The storage demand that is expected to be created by this regulation will be exponential. Indian citizens today make up for a substantial chunk of data for Internet giants like WhatsApp , Facebook, LinkedIn, Pinterest, Twitter, YouTube etc. Over half of the world's Facebook subscribers are Indians, and same is true for a number of other western IT giants. Till now all of that data was stored in the US but once the regulations are out, they would have no option but to house the data collected here in our Indian Data Centers. This will create a massive demand for storage undoubtedly. IoT, Connect buildings, machines, cars and everything else too will trigger growth of data storage.
What this means for India's storage Infrastructure and the way forward
With all these driving factors, India is set for generating unparalleled sums of data and will require extensive storage capabilities. Sridhar Pinnapureddy sums up the solution in a simple yet powerful sentence, "India needs a Hyperscale data center infrastructure." Today, India's current Data Center infrastructure is at par with the global standards, and in some capabilities even supersedes the infrastructure in US and Europe. Sridhar continues, "The Indian Data Centers are far better than their counterparts overseas. They are built to last and resist numerous technology deterrents like the Indian heat, the uncontrolled pollution, unforeseen power cuts, menacing earthquakes, and massive floods. We work in a far more challenged environment. While in India the resources are in abundance, there co-exist issues as well. However, we need to be ready to address the humungous amount of data likely to be produced due to privacy legislation as shared earlier". "Today' the infrastructure in India consists of state of the art Tier 3 and Tier 4 datacenter facilities that boast traditionally 8-10+ MW power capacities. The current infrastructure is likely to fall short in the face of the anticipated exponential growth of data that the country is expected to encounter," Sridhar continues, "This is where we at CtrlS are planning a new 100 MW hyperscale datacenter facility spread across a million square feet."
Future technologies are making entries in diverse use cases across verticals. Future transactions are going to be large, huge, and complex. Businesses are in the midst of exploring technologies like Virtual Reality and Augmented Reality for 360 degree experiences to showcase products and better efficiency in sectors like Real Estate, Entertainment, Healthcare and Manufacturing. The demand for Hyperscale datacenter Infrastructure in India is destined to grow exponentially in the country and India's Data Center Man Sridhar and his forces at CtrlS Datacenter have big plans of leading the Hyperscale revolution from the front.