Saurabh Gupta talks about his company's journey from in-house data centres to AWS. What were his apprehensions and what has been his experience through the digitization process?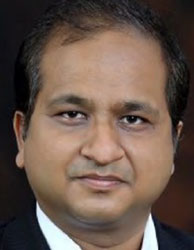 As a CIO you need to keep on innovating and see whether your policies work or not. And then take it to the next level. Keep experimenting because the moment you stop experimenting it is going to cost you."
SAURABH GUPTA CIO, KENT RO SYSTEMS LTD.
What has been your experience with Cloud and Amazon Web Services?
Cloud has allowed us to do many things which we were not planning to do earlier. It has enabled us to scale up and down our infrastructure as per our needs. Basically, all services and solutions that weren't available to us when we were doing things in our own Data Centre. It gives us the ability to do a lot of things faster in a very cost-effective way and that has helped us in doing our business.
How has Cloud changed your business operations as compared to when you were on your own servers and how has that changed things for the better?
When we were using our own data centres, we had a limitation in terms of admin infrastructure. We could not scale our infrastructure according to our demands. For example, there were days when we were getting lots of hits on our CRM for the website, and our systems would slow down which would result in poor customer experience. Once we moved to the cloud it allowed us to scale up the infrastructure and downgrade it as and when required. It has allowed us to move away the things that are not core to us. We don't have to rely on the expertise of certain individuals. Moving the business to Cloud has allowed us to focus on our core businesses. It has also allowed us to have a security mechanism built into the cloud.
Why did you decide to go ahead with AWS for your cloud services?
We chose AWS because we realized that it is a very stable platform. We took references from some of the other users and found out that their services and their uptime is very good. The performance of the servers is also good and their services are reliable. There is also a bunch of services which are available off-the-shelf. For example, they have a database service which you can directly plug in to your applications. The fact that the AWS network is pretty strong also helps, because when you start using their services, the department of AWS will help you in getting on-board and solving your problems.
As of now, are you completely on the Cloud or are you using a mix of in-house services and the Cloud? If it's a mix how do you distinguish what will go on the Cloud and what will stay with you in your in-house server?
Currently, we are using the mixed services. So, some of the services are hosted in our data centres and some of the services are on the Cloud. The services which we have in our own Data centre are mostly used by our corporate users. So, any service which is used only or mostly by the corporate users are hosted on our data centre. Other services that are customer facing or partner facing are stored in to the Cloud.
What were the challenges or fears that came to your mind when you were thinking of switching to the cloud?
There were multiple fears when we decided to move to the Cloud. The first was with respect to data security. Second, whether the services on our data centre will work when we move services to the Cloud. Whether the kind of reliability that we have in our own data centre, will continue on the cloud or not? So, this is why we started moving the services very slowly. We took some services and moved them to the cloud from our own data centre. We saw that those services were stable and they were working as per expectations. Then we started moving more of them. That's how we migrated to the cloud.