With 20 trillion terabytes of data, 1.5 million connected things, and a 7.4 billion population to cater to, the numbers are mind-boggling for the Robotics Industry. Robots and automation is becoming a part of everything productive and efficient. For enterprises, the technology is not just interesting, it is essential.
"Most paramount impacts would be seen in Customer Services, Healthcare and Industrial domains where Collaborative Robots would play dominant role." –

Tejinderpal Singh Miglani
CEO
Incedo

In today's business, precision and efficiency are two most crucial targets any organization strives to achieve. In fact, it can be conveniently said that this has been the basis of almost all the technological innovation in recent times. Robotics has been at the core of many recent developments in enterprise as well as consumer space. Integrating robots and automation in mechanical processes has had market improvements in profits for corporations across verticals.
"Adoption of robotics in new applications and key technology developments can propel the field into what could become a virtuous cycle of explosive growth." –

Krishnamoorthy R
the Group Head
Building Automation &amp
Machinery at
L&T Tech Services
As per credible industry report, one of the biggest pioneers of the Computing Era, Apple Godfather Steve Jobs used to believe that only machines could handle machines perfectly. After parting with Apple, Jobs employed a robot dominated workforce in his company NeXT Computers wherein the number of robots dominated the humans at thirteen to fifteen. The result was that the California factory of NeXT could roll out a complete workstation in under twenty minutes.
The robotics industry has started to gain incomparable momentum with recent advancements in technologies like computing power and artificial intelligence. The global robotics market is currently estimated to be around USD 36Bn with robots making inroads into sectors like consumer goods, services and healthcare apart from its dominant deployments in Industrial space.
Technology Overview
As a technology, robotics has growing in leaps and bound over a period of time. The recent frightening speed at which human innovation has taken place, has paved way for robotic innovations like AI-powered Industrial bots, social robots helping in houses and supporting disables, more efficient automation processes across corporations and state of the art precise medical surgeries among others.
Traditionally mechanical bots programmed to do specific tasks; robots today are getting more intelligent and autonomous with the availability of technologies like Big Data, analytics, cloud and virtualization. The market itself has been gaining good traction with a number of IT giants like Google and Amazon foraying heavily into the robotics market. Even venture capitalists that had till now ignored the space have started taking robotics seriously with a number of robotics startups receiving big time funding.
Deployments around the World
It is perhaps an irrefutable fact that robotics is transforming the way organizations are being run today. The commercial sector has taken significant strides investing in robotics. IT Giants like Google, Amazon and Qualcomm have bought robotics companies. Toyota recently announced a big push into AI and robotics.  Krishnamoorthy R, the Group Head; Building Automation & Machinery at L&T Technology Services which recently set up a robotics lab in our Bangalore campus aimed at optimizing industrial processes and solutions for medical and surgical robots opines, "Hopefully, these will lead to the adoption of robotics in new applications and accelerate key technology developments, perhaps even propelling the field into what could become a 'virtuous cycle of explosive growth'."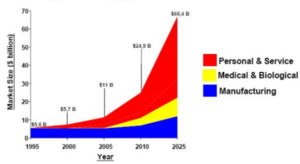 At present, North America and Europe are key geographical markets where the acceptance of robotics technologies is significantly higher. Asia Pacific markets however are expected to witness high growth with India predicted to lead in robotics process automation. Tejinderpal Singh Miglani, CEO, Incedo states, "We had the PC revolution and then the mobile, now robotics is set to take over and become an integral part of our lives. As with the usual technology trend, adoption in India is usually slow, however, once it picks up, it follows a steep growth trajectory."
IoT as the Accelerator
As per a recent report from Cisco, more than 1.5 Trillion Users/Things will get connected by 2020 and this would give rise to Human Centric IoT amplifying the need for humans and machines to do more and collaborate together. Innovations in robotics and AI will turbocharge industries which are generating massive amounts of data as it is expected that close to 20 billion terabytes of industrial sensor data will be generated annually by 2020. Tejinderpal Singh believes than advances in robotics, AI, Natural Interfaces, Wearable devices, and smart machines will present new opportunities for companies to empower their workers through technology, "Future of IoT would be led by AI & Robotics and the most paramount impacts would be seen in Customer Services, Healthcare and Industrial domains where Collaborative Robots would play dominant role."
In social applications and consumer space too, with enormous data available through social media like Facebook, Google maps and other sources, Robot can also have information available from these clouds. Krishnamoorthy R of L&T Tech remarks, "Cloud robotics has the potential of freeing robots from computing constraints. The concept of adaptive robotics is becoming popular as the IIOT matures. This will enable the robotic applications to take a new turn and will enter into applications like rescuing people and assets from fire, flood, earthquake and other natural calamities. The advancement of energy storage, IoT and analytics has given the development of robotics its edge to get into disruptive technologies and penetrate into different markets."
Robotics Process Automation
Robotics in business process is crucial as automation has presented organizations with marked improvements in efficiency. For example, Amazon's Kiva robots, work alongside warehouse employees and not only improve operational efficiency but also enable dynamic warehouse operations cutting order processing time from 1.5 hours to less than 15 minutes. L&T's Krishnamoorthy R comments, "With advent of social, robotics automation of business processes are becoming a reality and any repetitive process can be automated with social robots by programming and using the AI techniques. This can achieve 'zero' error in our repetitive business operations and the productivity can be increased."
Across industries and functions, many processes which require clerical work can be automated. A number of these processes are heavily human dependent, prone to errors. While organizations have resorted to outsourcing and offshoring to avail cost efficiencies, RPA is the right solution according to Incedo Boss Tejinderpal Singh, "RPA is very effective in business operations where processes are largely structured, rules driven and repetitive like invoice processing, receivables processing, claim filing, HR onboarding, client onboarding and pharmacovigilance. In today's competitive and over regulated era where profitability is under severe pressure, organizations can turn to RPA to provide a fresh set of lever to further optimize their operations."
Benefits outdo the Risks
Robots and automation processes are typically deployed behind firewalls and intrusion detection systems as they operate on the same internal network as any other internal mission critical enterprise systems. Unlike humans, robots are programmed pieces of code which cannot be tricked into divulging information or downloading unauthorized software, and lack any motive to violate existing policies. "As such only a change of access by an administrator could only provide unauthorized use," remarks Tejinderpal Singh, "Organizations should take care to not RPA any system admin level tasks/processes that can allow for such access."
Since the implementation of robotics, the major challenges faced by the industries were to adopt workflow which was compliant with safety and flexibility in the assembly operations. Robotic end effectors and tools need modifications and changes based on the specific assembly process and parts. With gradual improvements in AI and cognitive technologies, this is being catered to gradually. As Krishnamoorthy R says, "Vision based robotics and AI have made inroads into the sphere of Industrial Robots and the Dynamic adoption of Tools and end effectors are now common in the manufacturing robots."
All robotics process activity leverages comprehensive audit trail and logs which can be used easily to figure out where an RPA process went wrong. On top of this, robots can be controlled from a central command center and in cases of a bot goes rogue, there is provision to shut it down instantly. Thus, keeping an eye at the potential growth of robotic implementations across sectors, it can be firmly opined that robotics is a technology, the gains from which virtually outnumber any challenges involved.
Moving towards a more efficient future
The technology doesn't just have a lot of excitement round it but is also making serious impacts across vertical with recent developments. In India too, a number of new start-ups have come up working in areas like drones, healthcare sector, RPA for enterprises. The Industrial Automation sector shows a steady growth of using Robotics to improve the quality and productivity of manufacturing processes. Krishnamoorthy R. whose organization is currently undertaking a joint industrial R&D project with Dept. of Science and Technology named 'Robotics Endotrainer', a medical bot foresees, "The use of Robotics in Healthcare and Social sector will see an exponential growth in the coming decade. As the economy grows and the technology becomes safer and affordable we see lots of penetration of Home Robotics, Security and Surveillance implements being used even in India. There will be a steady increase in Industrial Automation Sector."
Recent developments like intelligent machines such as Augury, disease modeling systems from Sentian, Incedo's Personal Chat Assistant for Banking Framework, Amazon Echo, Japan's Henn-na Hotel or Self Driving Cars and Microsoft's cognition based motion sensor Kinect are some very good examples of how robotics is making inroads to consumers and enterprises alike.
The global robotics market is projected to grow at a CAGR of roughly 11 percent and summit around the 80 Billion USD mark in the next five years. Robots are making entries into our houses, our professional work, our well-being and even our governance. It is crucial for organizations to understand the technology and have a strategic approach, towards deployment of robots and automation processes. It is a no-brainer that humans or machines alone won't be enough to drive businesses in the coming decades. Tomorrow's leading enterprises will be the ones who will be able to blend the two seamlessly together.
Technical Challenges to be addressed for Global Penetration of Robotics –

·         Interoperability

·         Security

·         Safety

·         Autonomy

·         Open Architecture

·         Collaborative Robotics
Well-known Global Robotic Implementations –

·         Amazon's Kiva Robots

·         iRobot Romba

·         RoboHon

·         Japan's Henn-na Hotel

·         Self-Drive Cars

·         Letvision's BMW Letron Robot

·         Augury Intelligent Machines

·         Sentian Disease Modeling Systems
Key areas within enterprises for Robotics innovations –

1)      Customer Services

2)      Supply Chain and Operations Efficiency

3)      Human Safety