Avaya's Vishal Agrawal delves further and addresses the risks involved with such collaborations. He states, "One of the key concerns with regard to the execution of the Mission arises from the public private partnerships in project execution. While the government will contribute a substantial amount to finance these projects, it is estimated that the mission will require about USD 150 billion investment from the private sector. This investment will be used in the development of sophisticated technologies such as IoT and M2M. This raises concerns of privacy, data sharing, protection of sensitive personal information, cyber hacking, identity theft etc. The government need to ensure a stable and predictable regulatory environment including a re-visit of information technology laws."
Looking at Smart Cities across the Globe
Gaia's Dr. Chowdhury explains, "There is a lot of commonality in the provision of basic infrastructure and services. India would do well to look at other Asian cities that have similar high urban densities, economic disparities, and because they are newer, have higher inclusion of new age and environmentally sustainable technologies when compared with cities in developed nations." He also adds that each cities development varies based on some key attributes which are different from city to city. Understanding these aspects is important. "Each smart city flourishes in its specific geographical, economic, and sociocultural environment. These determine the key pivots around which a city will create livelihoods and build its own center of gravity. So Indian cities will have to determine their unique strengths and locational advantages and build on them," He adds.
Avaya's Vishal Agrawal adds, "Smart Cities are about enabling new services to better service your population. This is about making your city safer, offering new services while enabling consumers to use to drive net new revenues or in some cases focused only on providing a better experience to visitors and tourists."
"While urban India is moving fast with techadvancements, the vision of 100 smart cities will require rapid transformation across length and breadth of the nation." George Chacko, Principal Systems Engineer & Lead Technical Consultant, Brocade India
HDS' SrinivasRao believes transportation upgrade is synonymous with Smart Cities and a big part of the deployments across the globe. He adds, "Public Safety Solutions support Frontline Smart City cases with real-time Internet of Things, advanced analytics, video monitoring and application management. Transportation systems are very important, especially in India to make a Smart City. Organizations who want to be associated with Smart City projects are now applying predictive and prescriptive analytics to video and analytics to support new wave and intelligent public transportation systems."
Deployments and Projects in PipelineOn the deployment front, Avaya has been closely working with two State governments in UP and MP to implement an emergency response system which has been updated with faster response time. Avaya is in further discussions with 10 other different State govt. representatives for implementation of this system. Vishal Agrawal elaborates, "Avaya is looking at a range of smart city projects but these are still in nascent stages. Also, Smart City projects can't take a "one-size-fits-all" approach – you need to look at a range of solutions across different categories. The tipping point will be "smart offices" followed by "smart buildings," then smart campuses. The basic elements of smart cities like emergency response system, traffic system are coming in now and we will see more of them in the next couple of years. For Avaya in India, government projects are major growth drivers, with 15-20 per cent of revenue coming from government projects today, and that number expected to go up to the as much as 30 per cent in the next 18 to 24 months."

"At the most basic and crucial level, financing with required partnerships and operations will require governmental and non-governmental organizations to collaborate."
Dr.Sumit D Chowdhury
CEO & Founder
Gaia SmartCities
Gaia Smart Cities leverages technology to enable cities to deliver new services, monitor and improve operational efficiencies for existing services, develop citizen engagement and feedback platforms and improve overall quality of life for citizens. Dr. Chowdhury states, "We have worked with 14 cities in preparing their Smart Cities Challenge proposals and provided ICT and network strategy as part of the city infrastructure vision. Of these, 8 cities have been selected among the 60 whose plans have been approved by the government. In the next stage of the Smart Cities Mission, Gaia is working with a few cities as part of the Program Management Unit and an implementation partner. Also, we have designed the "smart infrastructure" for a new green field township being developed by Tata Steel in Kalinga Nagar in Odisha, working in partnership with urban planning firm RJB Associates."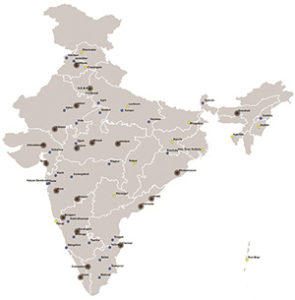 Hitachi's digital technologies are providing real-time, aggregate and contextual data, supporting public safety initiatives which will transform law enforcement to prevent crimes and ultimately make cities safer. Hitachi's Video Management Platform (VMP), an appliance-based solution also comprehensively manages all video data, offering rich data integration management and visualization for video applications. "Hitachi Data Systems in India with Hitachi Ltd., our $100-billion would collaborate to drive and implement smart cities mission in India. Hitachi already has a presence in India as it is involved in the work on the desalination plants in Chennai and Gujarat and the Delhi-Mumbai infrastructure corridor. We have been leveraging the power of Hitachi and combining them with our IT platforms to make society better. Many projects like the 'MyGov' initiative, e-Procure, e-courts and Central Crime Research run on HDS platforms," comments Srinivas.